Animalitoland is the visual universe of Graciela Goncalves Da Silva, an Argentinean artist. A self-taught illustrator and graphic designer with a degree from the University of Bueno Aires, she has spent more than ten years experimenting with various visual universes. She started with comic books and fanzines, then worked in animation, video games, toys and graphic design. After this life spent in the studio, she started to paint freely in the street, a real personal and artistic revolution.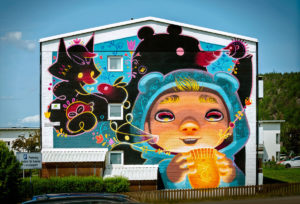 Following this journey, she has cultivated a personal style that has gained international recognition: since 2009, she has participated in group and solo exhibitions, painting festivals (Underground Effect in Paris by the SAATO project, …) and conferences.
Argentina, Spain, Germany, United Kingdom, France, Hungary, China are some of the places where his creatures have entered.
Animalitoland on the web: www.animalitoland.com
Showing the single result
Showing the single result