From tattoo to graffiti
Djoels (1993) grew up in Meulebeke, a small town in West Flanders, where she described her childhood as rough and isolated. She was introduced to the tattoo scene at the age of 7 after a friend took her to a studio with him. From that moment on, she knew she wanted to become a tattoo artist. At the age of 19, she finally had the opportunity to do an apprenticeship in a tattoo studio and use human skin as a canvas.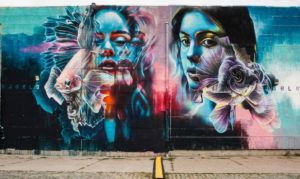 Besides tattooing, his great passions are oil painting and graffiti. At that time she invested her hard-earned money in spray cans so she could spend more time on her graffiti. She came into contact with the "Lostflammos" graffiti team who helped her to develop her style and technique, allowing her to move from lettering to realism.
In 2017, she participated as a contestant in the Dutch-Belgian adaptation of the successful spike-tv show InkMaster, where she was to present different art and tattoo styles. Not only did the first edition of this show give her enormous visibility, but she was also recognised for her work and commitment in the creation of her art.
Djoels may not be the tallest person you will ever meet, but she will probably be the most energetic and positive. When you enter her shop called Tattoo Djoels Ink, located in Deinze, Belgium, the wonder is immediate. From the works that line the walls, an undeniable talent springs up, encouraging people to enter his art and to learn about her history.
Djoels on the web: www.djoelsink.com
Showing the single result
Showing the single result