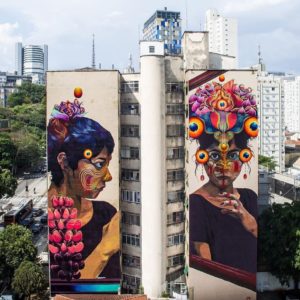 The Colombian artist Gleo covers walls all over the world with his vibrant murals, with figures often adorned with masks and other surrealist embellishments.
She emerged as a popular muralist in her native South America, but she now brings these local influences to various parts of the world. Much of her mural work is done with brushstrokes, providing powerful textures.
"She simply uses ordinary brushes and rollers for her work and skillfully creates a very imaginative and dynamic piece of work," explains the I Support Street Art website, "Beautifully detailed, GLeo's colourful scenes and fantastic creations capture and attract your attention, like the hypnotic Chimera dancing in their cityscapes.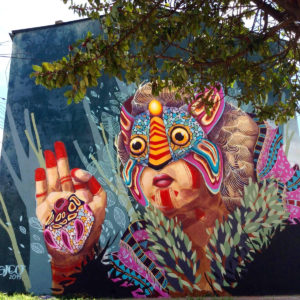 Recent murals have been created in Spain, Portugal, the Netherlands, Belgium and California. The mural with the 3 merging faces was created "in honour of Francisco José de Caldas, a Colombian who died defending human freedom and Latin American culture".
His works (sometimes very large formats) symbolise the duality of the elements: water and fire, light and darkness, animal and divine. Under her airs of wise girl, she asserts herself in the world of street art by appropriating the walls of the big cities of Latin America.
Showing the single result
Showing the single result