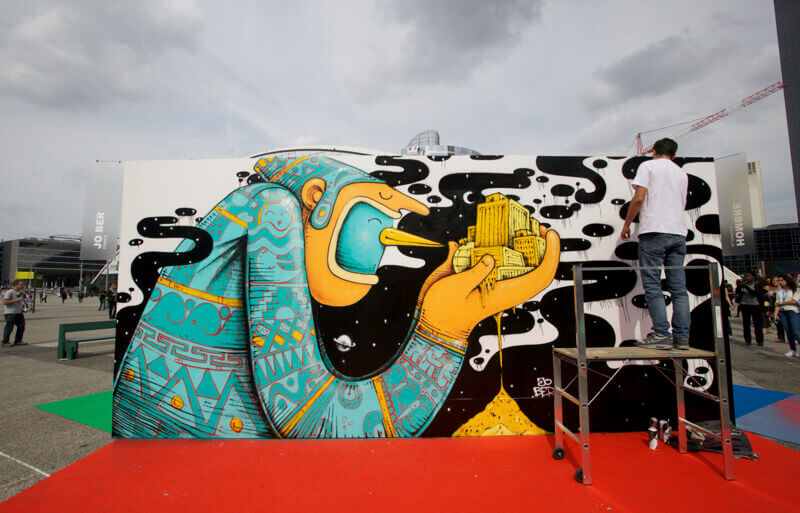 A compulsive draughtsman from the Paris region, Jo Ber works on his bases by varying pleasures such as murals, canvases, fanzines, comic strips and sculptures,
Talkative illustrations, multiplication of supports, detours and curiosities, he has a pronounced interest in urban mythologies and ancient ghettos.

Jo Ber spent his youth in the meanders of La Défense, slaloming between the towers and underground passages. He was passionate about drawing and comic strips, he was always pencil-pushing and filled his sketchbooks by the dozens.
<He is a great artist.
He started graffiti in the early 2000s in the wastelands, under the pseudonym BER, he concentrated on characters and sets which he integrated into collective creations then, eager for new supports and new sensations, he started to paint in the street, on the railways, etc.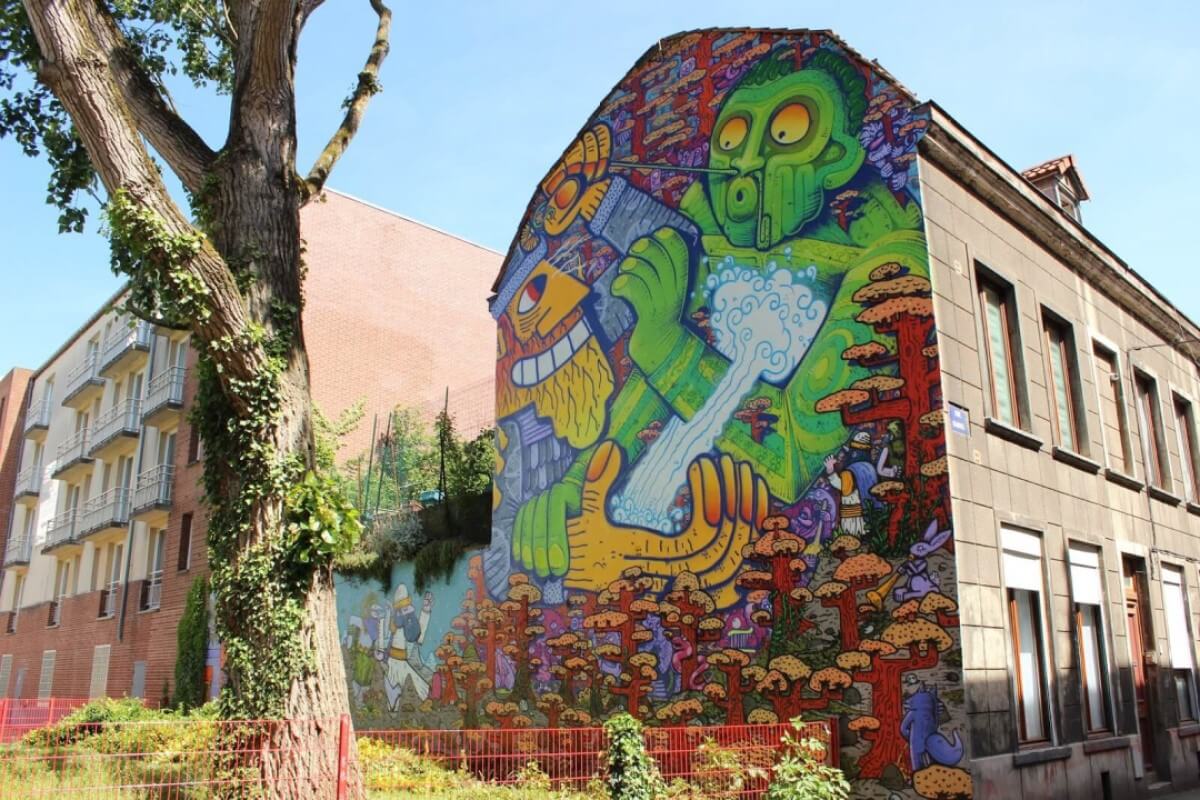 From 2007 to 2010 his illegal activity was essentially limited to painting on trains in France and then in Europe (Berlin, Milan, Naples, Oslo,…), where he produced many happy and colourful pieces, often in duo with Poes or Perle ("Descent forbidden").

Jo Ber does not give up drawing for all that, on the contrary, he collaborates with Thibaud Tchertchian and Poes in the creation of a satirical comics fanzine "La Koulure", hence the name of Jo Ber's blog: Jolakoulure.

He participates in several collective exhibitions and auctions, notably at Artcurial and Aguttes.

Today, Jo Ber concentrates his work on walls, canvas and paper. He takes a clever pleasure in playing with composition to tell his stories.His inspirations are varied. They range from comics (Will Eisner, Frank Miller, Robert Crumb, Katsuhiro Otomo, Moebus,…) to the art of the first civilizations. He soaks up everything that surrounds him, digests it and restores it with his own untied line. He comes close to the movement of free figuration in the way he composes his paintings, in his approach to painting and in the popular character that only Jo Ber's work can have.
Jo Ber on the web: Facebook
Showing the single result
Showing the single result