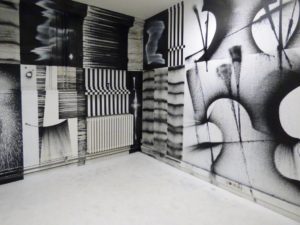 Yann Le Berre aka L'Outsider was born in 1984. Noticed for the multiplicity and complexity of the geometric shapes of its lettering, the Outsider is "always in search of new images".
The graffiti artist L'Outsider has a style all his own, with a very precise and geometrical graphic line. He creates neither murals nor characters, all his art lies in the formation of his typographies through the subjects he imposes on himself, such as colourful sequences, animal skins, military prints or the revival of certain national flags.
The Outsider works in series, a series of 10/15 paintings is equivalent to the study of a given lettering, background and theme. He uses volume to make his letters communicate and to render a condensed and tight whole. It is effective, persuasive and striking.
Showing the single result
Showing the single result