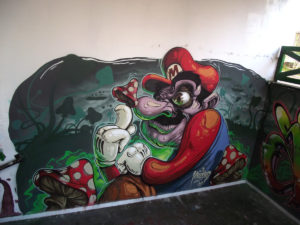 Mr. Zero began his artistic career at the age of 12. After drawing since childhood, he painted his first comic book character on a wall in his hometown in Hungary in 1994. Taking his artistic development more and more seriously, he created a unique language of images and characters that earned him national and European recognition.
In 2001 he painted his first 3D objects with a spray can.
From 2011 he moves away from this 3D style to start painting works related to the world of comics and cartoons.
Today, he combines the traditional style of letters with his figurative and comic characters. The comic characters and heroes of his childhood are the main subject of his works of art.
Mr. Zero on the web: mr-zero.org
Showing the single result
Showing the single result