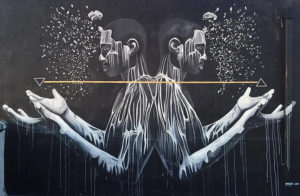 Self-taught artist and graphic designer, Naveen Shakil Khan is a female artist whose work is a cocktail of graphic, traditional and surrealist art crowned with a hint of Grunge street graffiti.
It was the unexpected return to Karachi in 2013 that forced her to take stock of her internal dialogue, bringing about a marked change in the dynamics of her professional career as an architect and her art. It became clear that her desire for creativity went beyond architecture. Perhaps there would always be a constant paradigm shift between art, architecture and graphic design, where each element informs the other and neither can exist as a single entity; giving rise to a symbiotic union rather than the exception of general practice. After giving in to this epiphany, she began to embrace all forms of creative visual stimulation, resulting in a process of superimposition for her own work. She joined Studio subtractive, a shop design and architecture company. Working as a designer and graphic artist provided her with a platform to exercise her graphic and artistic skills to create large-scale graphic walls for various projects.
She has the ability to work independently of constraints and does not feel the need to conform to any particular technique or medium. Her ability to not get stuck within limits has given her the willingness to work on a variety of projects.From advertising campaigns for chic brands to guerrilla and graffiti art, Naveen Shakil has applied her knowledge of traditional painting, graphic media, software manipulation, mixed media and photography to her work.
her current production is a manifestation of all her strengths in a single portfolio; her infatuation with the human form; the cleanliness of her technical execution; the diversity of his aesthetic language; and her willingness to work on a variety of projects.
Naveen continues to live and work in New York.
Showing the single result
Showing the single result