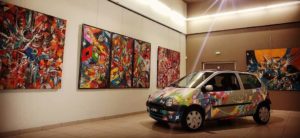 The artist La Boukle has a singular path. He went from graffiti to acrylics on canvas before making a name for himself and exhibiting at the biggest street art festivals such as the Underground Effect of Paris – La Défense.
A self-taught painter, La Boukle has been practising his art for some thirty years with aerosol spray paint as his favourite medium. For several years, he has wandered through the wastelands in search of the most marked wall and talking about the history of an industrial economy in order to leave his mark on it. Together with other insiders, a collective was born (AKV). The passion they had in common allowed them to travel across France and from time to time, to cross borders.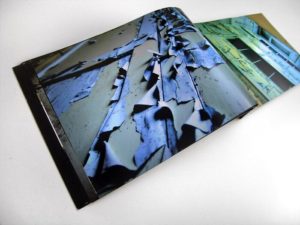 In 2005, La Boukle launched a self-produced work with the photographer Frédéric Grimaud. The subjects were the macro and textured vision of the photographer in these places while managing to associate the collective's productions with a more advanced presentation of his work. 2006 was the official release of the book La Mauvaise Herbe Urbaine allowing him to leave an artistic trace of all these abandoned places on glossy paper.
In the years 2010 begins a series of joint exhibitions noticed with the painter and graffiti artist Oré at Galerie Juste pour vou'Art (Cabourg), at the galerie Ligne 13 (Paris) or at the Espace Culturel Philippe Torreton (Saint-Pierre-lès-Elbeuf).
He still uses aerosol paint, but other media have been added to his palette such as acrylic or wood, which he uses to create much more personal and intimate creations, opening him up to new perspectives. According to him, the combination of stab wounds, volutes, colour codes and his gestures allow him to achieve abstraction.
Find Le Boukle on Facebook: www..facebook.com/laboukle/