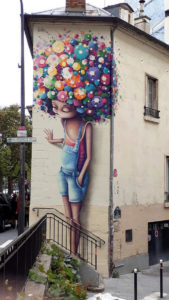 Vinie Graffiti was born in Toulouse (France) in 1984. She is a little girl gifted for painting and drawing who organised her first exhibition at the age of 10. As a teenager, she learns graffiti in high school. Like many "street artists", Vinie is handmade with lettering before being able to create sets and develop characters in her own image. Her crew at the time was: "AH".
Vinie left Toulouse for Paris in 2007, where she has been artistic director ever since. The capital inspired her with a more figurative style that leads her to grope for a recurring female character. His signature woman and a black "doll", with a slender body and eyes that look like Japanese manga.
The one who has gradually become her favourite figure, has a huge afro hairstyle, most often represented by Vinie bubble tags. Her "creature" is a pin-up girl of modern times, a clever mix of hip-hop inspiration for the look and pop for the flamboyant colours she wears.
Her style is distinctive and recognizable in a thousand ways, especially in the way she integrates the environment into her work.
Vinie on the web: www.viniegraffiti.com